Here are the best photo spots in Malaga and its province!
Are you looking for great photo sightseeing in Malaga? We listed some of best photo spots in the province of Malaga for you to discover !
1. Malaga treasure: Best photo spots in Botanical Gardens of La Concepcion

When you are visiting Malaga, the Botanical Gardens are a great photo spot. You are surrounded by beautiful flora and fauna. In the park you will find a beautiful roof made of the so-called plant Cenador de las Glicinias. It is one of the best photo spots in Malaga.
You can find the Botanical Gardens: here.
2.  Calmito Del Rey adventure

Are you up for an adventure and ate you not afraid for heights? Then Calmito Del Rey is a great photo spot for you! You will see that there are paths attached on the walls of Desfiladero de los Giantanes where you can look down on the Guadalhorce River. The area is known as El Chorro. You can't miss out on taking pictures from this amazing location.
For more information visit the website of Calmito Del Rey.
3. Gibralfaro viewpoint

Located in the city center of Malaga you will find the castle Gibralfaro. It is located on the mountain near to the Alcabaza Fortress. At the castle you have a great viewpoint where you can take beautiful pictures. It is one of the best photo spots in Malaga.
4. One of the best photo spots: Town of Ronda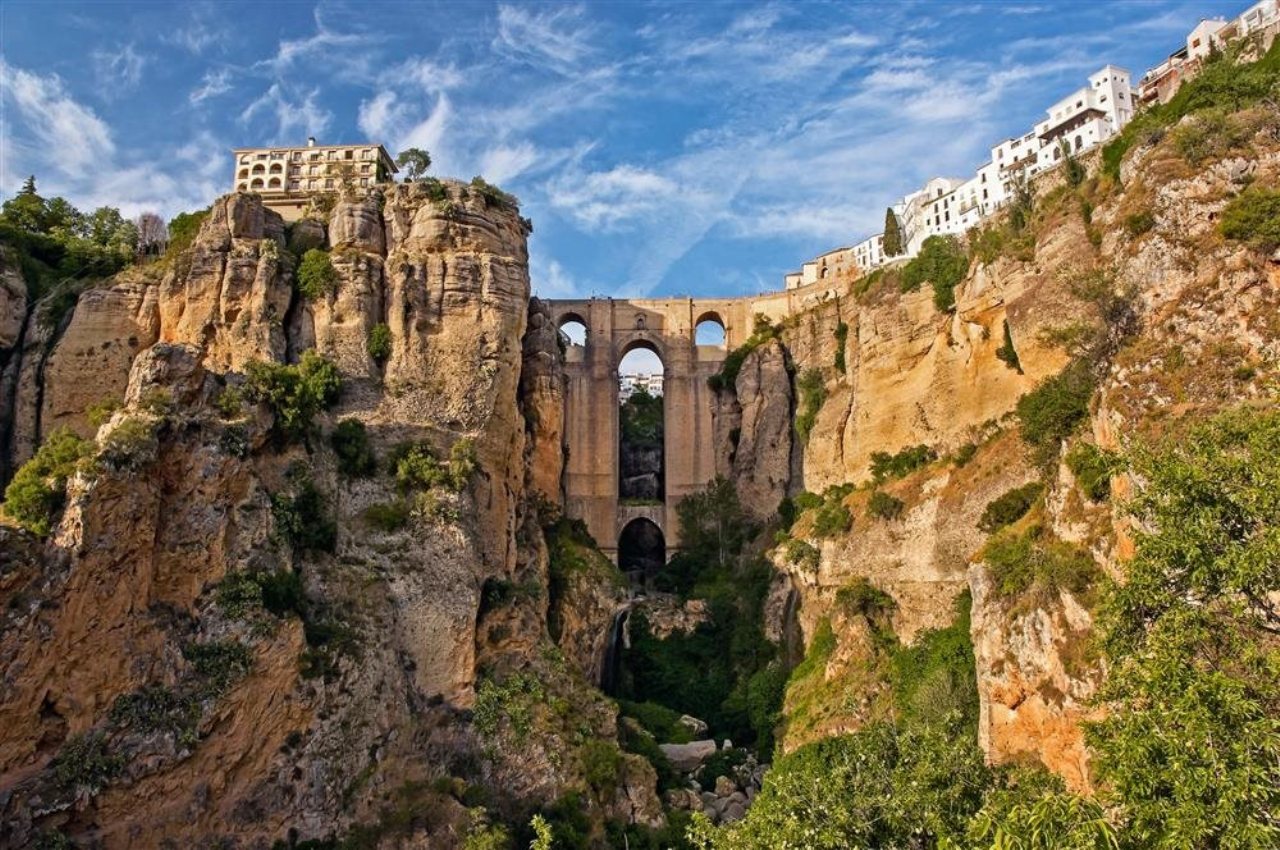 When you visit the town Ronda you definitely will be amazed. The town was split in two parts due to the River Gorge. You will find the impressive bridge that was build in the 18th century and it is called the Puente Nuevo. It connects the two parts of Ronda. It is a great photo spot to take beautiful pictures.
5. Discover the beautiful Nerja
The caves of Nerja are some of the most impressive cavities in the world. You will find fabulous formations, an amplitude of a cathedral and even some of the oldest paintings of mankind. You can take some nice pictures here but keep in mind that flash is not permitted.
Another option you can take is Rio Chillar. You can walk as long as you want on this river. The total time of the route is 4 hours forth and 4 hours back which makes it a 8 hour trip. Of course you can decide yourself how long you want to make the trip because you can return every time you want. Besides the river, you will also find a lot of pools with natural water where you can swim. It is a great photo spot with a beautiful natural background.
Do you want to see more places in Malaga? Check out our blog post: 10 Things you must see when visiting Malaga!